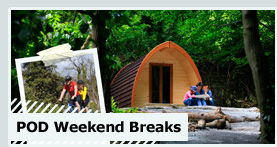 Glamping Northern Ireland – the ultimate weekend break where you stay in your very own private heated glamping POD in the depths of Castle Ward Estate! The first in Ireland the glamping POD's are very popular so pre-booking well in advance is strongly advised. Think of it as boutique camping in Ireland!
We have 2 sizes of Glamping POD on Castle Ward Estate (Northern Ireland):
Standard glamping POD – sleeps 2 adults and 1 child
Family glamping POD – sleeps 2 adults and 3 children
Each Glamping POD at Castle Ward Estate is in it's own private secluded area and features:
An attractive, dry and spacious camping area

A window and secure lockable double glazed French doors

Front door outside decked area

Heating Inside
Glamping Northern Ireland – Weekend Break Deals:
A family break with a difference – spend the night in our quirky new glamping in Ireland PODs in the stunning Castle Ward Estate. Bikes are provided to you (including toddler tag-a-long trailers for children as young as 9 months old) so you can explore the wider estate without having to go near any dangerous roads. Then choose from additional activities on offer including sea safari wildlife boat trips to see the seals 'up close' in Strangford Lough, archery and/or canoeing. Alternatively you may even decide to send the kids on one of our kids activity day camps so we take care of the kids 10am – 4pm and you can relax for a few hours!
The first in Ireland the glamping PODs are heated and secure, and their quirky nature is always a hit with the kids. Castle Ward is an ideal family holiday park destination just 2 hours from Dublin and 40 mins from Belfast where all you need is in the one location and you are safely tucked away from any roads – scenic picnic spots and BBQ areas, choice of coffee shops and wi-fi zones, children's adventure playground areas, scenic walks and family friendly bike trails. And then just a stones throw away from Castle Ward estate is Ireland's only Aquarium Exploris and Tyrella a top quality blue flag beach – what more could you ask for to create unforgettable memories……
A mini-break with a difference – spend the night in the quirky new glamping PODs at Castle Ward estate and enjoy some outdoor activities too! Get ready for some fun and relaxation with a night in the fantastic new glamping PODs at Castle Ward, with bikes provided to explore the estate and local coffee shops. Then choose an additional activity to do together from either Archery or Canoeing.
glamping in ireland, camping pods northern ireland, holiday parks in ireland, glamping northern ireland